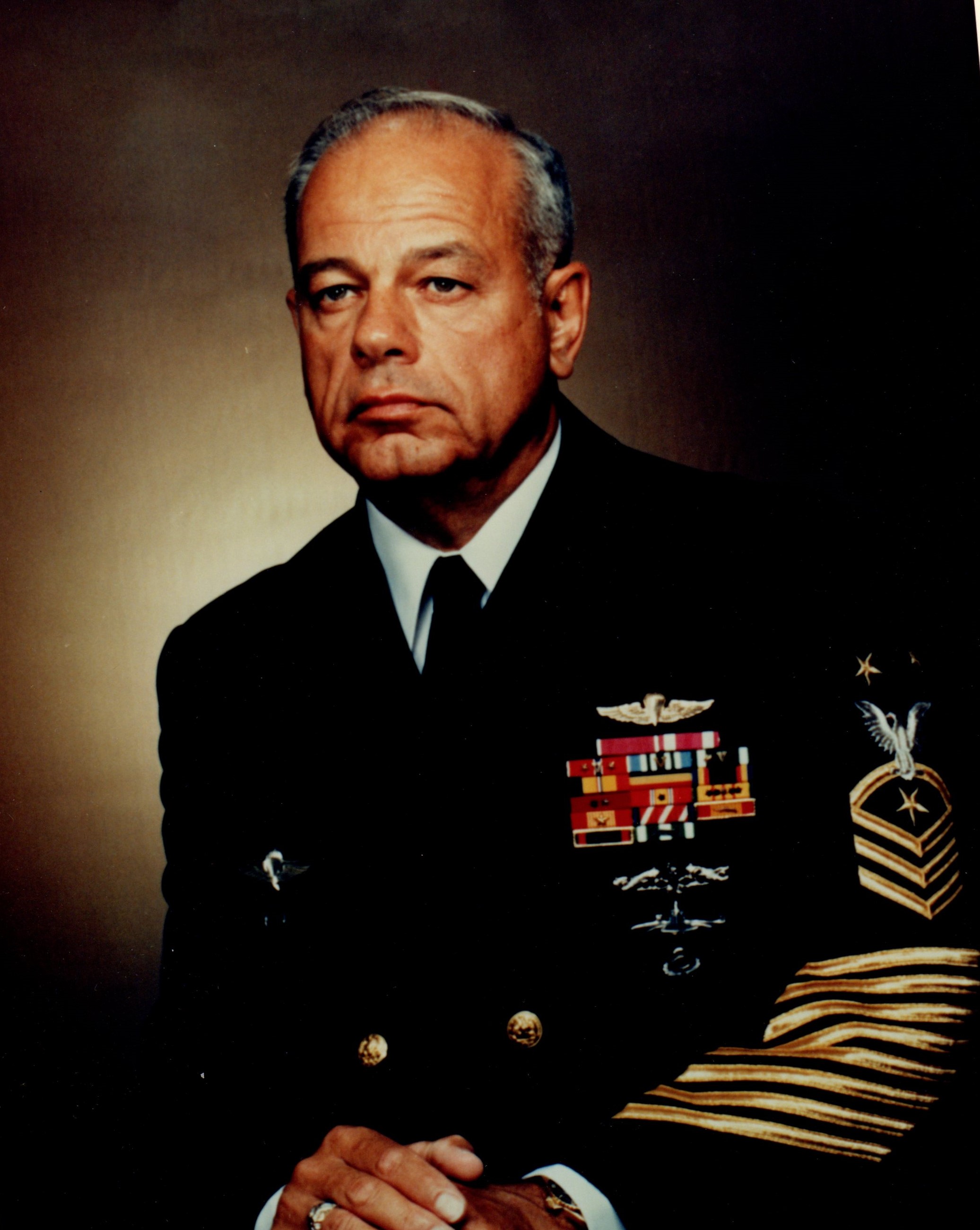 It is sad to report the passing of our Shipmate MCPO Bob Nissley
MCPO Bob Nissley passed away on Wednesday, February 22 at Covenant Hospice in Panama City Fl with his loving daughter, Valarie by his side.

Bob served in the Navy for 32 years retiring in 1978. Highlighting his distinguished career, served in conventional and nuclear submarines, Chief of the Boat SSBN-618. A combat veteran of Vietnam, Bob served with the Naval Special Warfare UDT/Seal for many years, was Master Chief of Naval Amphibious Force Atlantic Fleet, NSW Liaison Officer at Fort Bragg and a key member of the US Navy Pistol Team.
After retirement he was employed with Textron Marine Systems and retired as President of Bell Avon.

Among numerous military awards and distinguished badges are Legion of Merit, three Bronze Stars with combat "V", Silver Submarine Dolphins, Gold Navy Parachute Wings, Navy Scuba Diver/Navy Combat Craft Command Badge and Vietnam Parachute Wings.

He is survived by two daughters, Valarie and Vanessa Nissley, sister JoAnn Cunningham (Gib), as well as his niece and nephews, great nieces and nephews all who filled his life with great joy.

Memorial service was held on Tuesday, February 28, Southerland Funeral Home, Panama City, FL. Final resting with military honors in Mt. Hope Cemetery, Lander, WY next to his grandfather.

Name
Branch of Service
Dates of Service
UWSS Class/Staff
Date of Death
Andrews, James H. "Hoot"
Navy
1944-1974
10 Oct 2008
Arens, William "Bill" Hodgson
USCG
1960-1986
11/60
1 Jun 2010
Badger, Patrick
Navy
1944-1976
70-72
26 Jul 2008
Barber, Morris "Lee"
Navy
1943-1964
1958-1962
27 Dec 2016
Barlow, Daniel A.
Navy
1951-1959
2/56
11 Jun 2011
Bartleson, John D.
Navy
1954-1984
12 Oct 2016
Becker, James J.
Navy
1956-1982
7/61 3/67
15 Sep 2008
Bennett, Jack
Navy
9/62
23 Aug 2009
Biddle, Thomas Owens
USMC
1959-1965
9/60
6 Mar 2012
Boehm, Roy
Navy
1941-1971
8 Jan 2009
Byers, Dow
Navy
1951-1971
62-67
17 Sep 1990
Callahan, John F. Jr
Navy
6/61
26 Nov 2009
Chaisson, Frank
Navy
1951-1961
2/60
26 Dec 2007
Checote, Don
Navy
1943-1965
9 Oct 2016
Clark, A. Dee
Navy
9/59 69-73
8 Sep 2012
Clark, Robert "Doc"
Navy
10/64
6 Aug 2016
D'Angelo, Joseph "Doc"
Navy
15 Jan 2001
Darlington, Robert Leroy
Navy
7/63
4 Nov 2008
Eckert, John George
Navy
5/61
31 Aug 1981
Ford, Lesley Wade
Navy
1955-75
2/62
5 Jun 2013
Foster, Jerry
Navy
2/61
21 Apr 2010
Godwin, Frank J.
Navy
1944-1964
55
12 Mar 2012
Hazelwood, James
Navy
1 Jun 2004
Hoverkamp, John Frederick
Navy
9/63
27 Jan 2013
Hunter, Ted
Navy
25 Dec 2010
Kappesser, Frank
Navy
4 Sep 2004
Lagan, Alfred A.
Navy
1956-1959
10/56
23 Jul 2013
Lively, Richard
Navy
56
12 Jun 2013
Lynch, John "Jack" Jr
Navy
1960-1982
6/63
15 Feb 2010
MacKenzie, Robert B. "Jock"
USMC
6/57
21 Sep 2010
Marshall, Frank
Navy
65
1 Jan 1983
McCraw, Paul Lylton
Navy
6 Feb 2014
Mickelson Larry
Navy
1/65
13 Jan 2006
Murphy, Michael John
Navy
1952-1975
4/63
26 Aug 2009
Nealy, Richard C.
"PeeWee"
Navy
60/63
8 July 1986
Bob Nissley
Navy
1949-1979
22 Feb 2017
Noble, James
Navy
14 May 2008
Rabbitt, John Francis
Navy
67
10 Oct 2007
Reinbolt, Henry Jack
Navy
1948-1970
19 Jun 2010
Rider, Burton E.
Navy
1938-1960
54/57
3 Mar 2003
Rundquist, Peter A. "Swede"
USAF
1948-1970
11 Apr 2011
Schaible, David L.
Navy
1944-1981
9 Aug 1988
Shouse, Robert W.
Navy
1943-1966
55-58 64-66
15 April 2016
Short, Richard "Dick"
Navy
19 Feb 2014
Shray, Joseph D.
Navy
1945-1965
55
22 Jan 2007
Tornbloom, Per-Erik"Swede"
Navy
27 Nov 2009
Vigare, Lenote M.
USAF
1947-1978
5/61
20 May 2011
Zipp, George
Navy
4/55
3 Feb 2011